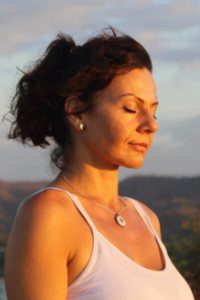 Antoaneta Maria Gotea was born in July 1972, in Bucharest, Romania. The memories from her early age about her father practicing complicated physical exercises (known in yoga as uddiyana bandha) and unusual breathing (pranayama) synergistically connected with her mother's teachings about the existence of subtle bodies and reincarnation and this blossomed later in a genuine spiritual aspiration.
Her search for an authentic spiritual path led her at the age of 21 to a yoga course while she was a student at Politechnical University in Bucharest. She studied Raja Yoga, Mahavidya Yoga and Kashmir Shaivism at a yoga school in Romania. In 1997, she started to lead groups of women in practicing Mahavidya Yoga, her favorite branch of yoga.
The first encounter with meditation was in 2000 when she joined her partner, Sahajananda, for a meditation retreat in one of the remote caves of the Romanian countryside. The 3 weeks spent in solitude and silence made her understand for the first time how difficult it is to quiet the mind, how much discipline and perseverance one has to have in order to go deeper in meditation, and what determination is needed for the one who aspires to know the Truth. The confrontation with herself was tough but awakening. After this experience, a deep longing for solitude and meditation awoke in her. The next year she joined her partner again in the cave for a second remote meditation retreat. The deep happiness that she felt when she returned to the same cave where the first glimpses of meditation appeared is very hard to describe. Another significant retreat was a kaya kalpa retreat (dark retreat) for 18 days that she did together with Sahajananda.
She has continued the meditation path by joining Hridaya Silent Meditation Retreats led by Sahajananda in Romania, Thailand, and Mexico. In 2008, she graduated from a 500-hour yoga teacher training course and started teaching in Thailand and Romania.
In 2010 she had the great opportunity to get more in touch with the profoundness of Tibetan Buddhism when she attended the Dalai Lama's teachings in Bodhgaya, the 10-day Phowa retreat with the great master Ayang Rinpoche and "The Art of Joyful Living" meditation course with Mingyur Rinpoche at Tergar Monastery in Bodhgaya, India. From that moment the Buddhist teachings regarding compassion and bodhicitta have merged with the Hridaya yoga practice based on the non-dual teachings of the great sage of Arunachala, Ramana Maharshi.
In 2011, Sahajananda and Antoaneta gave birth to the first Hridaya Teacher Training Course. She had the great opportunity to be the coordinator of the first HTTC and also to teach an amazing group of students/lovers of meditation.
And the spiritual journey continues… The meditation retreats continue… Meditation is an on-going transformation of the mind. Until the mind turns completely inward and sinks into its source, which is the Spiritual Heart, such effort is necessary.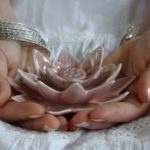 Embody Your Divine Feminine Online Workshop
March 12, 2021
This Tantric workshop is an invitation to awaken your sacred creative power. By connecting to the Divine Feminine, you'll dissolve suffering, traumas, and difficulties and begin to embody the true jewel that you are. The basis of Tantra Yoga is the glorification of women, with the understanding that every part of the female body is Divinity incarnate. This wisdom infuses the workshop. Through heart-opening practices, techniques from Tantra and yoga, and the power of dance (including Alchemical Dance, a special practice created by Antoaneta to guide energy through the chakras), you'll experience a restored sense of unity between feminine creative power, love, and sacredness. Therefore, dear woman, this is a call to meet yourself where you are right now. Accept, embrace, dance, sing, and worship whatever is in this moment. Dance your happiness or sadness, your gain or loss, your light or shadow, and let dance raise you above yourself. The poetry that you are will be written by your moving body. And then, we can sit together and talk about love and worship. You already know that ritual is deep within you. Just let this journey remind you…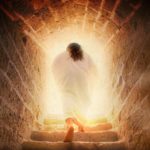 At-Home 4-Day Hridaya Easter Retreat
April 1, 2021
This 4-day Easter silent meditation retreat (offered by donation) with senior Hridaya teacher Antoaneta Gotea is an invitation to turn our attention inward and look for the Light within ourselves, to discover that the highest phenomenon that a human being can experience is the compassion that resides in our own hearts. We will journey into the realm of the Heart with the teachings of Jesus seen through the light of Advaita Vedanta and Bhakti Yoga. We will turn our attention to Love, the most powerful force in the Universe, and practice not only for ourselves but for the benefit of all human beings.